We tailor our Blockchain Consulting specific to each client and partner. We prefer long term partnerships, therefore every time we discuss potential consulting engagements with potential clients, we make sure to let them know about the benefits of having a long term relationship with Bitsapphire.
Bitsapphire's Blockchain Consulting Methodology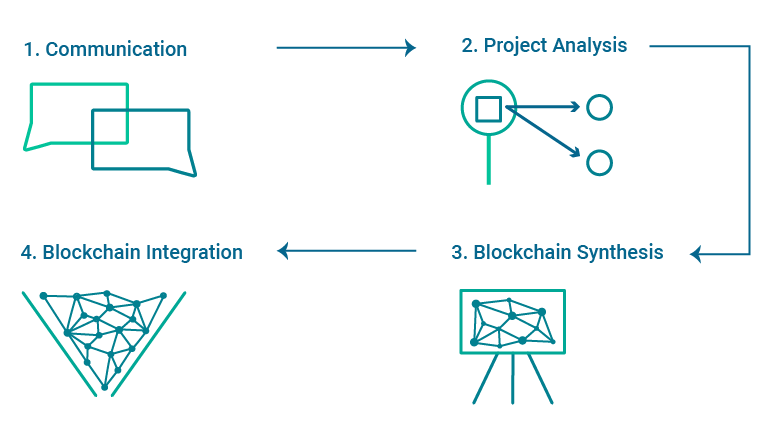 Generally speaking, we offer blockchain consulting for two specific target groups: startups and corporate clients.
With startups we only do partnerships (deep partnerships) and whatever up front work we do with them on a consulting basis, is more tailored towards testing the waters, seeing how well we work together, and creating some sort of working relationship.
While with corporate partners and established businesses we do more of a traditional consulting setup, but with the intention of a long term partnership. Normally the requirements and specifications of what needs to be done are the more or less upfront. We discuss this in one to three skype calls, or phone calls, and normally by that time both parties are on the same page about the work and the timeframe. We rarely do fixed price consulting, unless it's just a test project and both parties know that it is a test project. Normally it's time and cost basis consulting with corporate partners.
The best way businesses can work with us is to take the preliminary discussion very seriously and to ask us as many questions as possible and answer as many questions as possible. If there is some non-disclosure requirement, having the NDA's ready to sign as soon as possible is best because that way we can move forward quickly, as well as be very upfront about the intentions of the consulting engagement. If we feel like the partner isn't fully trusting us or we see that something internally in the business isn't going well we try to stay away from that (so be as upfront and honest about engagement as possible).
Industries blockchain is being applied on
Right now the biggest interest for blockchain integration and usage is in the financial industry, simply because how the Bitcoin started, in banking transactions, insurance, and other similar fields. Most concentration currently is on so called shared ledger
We have come to the conclusion in the past and two and half years that the shared ledger is actually only a very small field of interest, for a very specific industry, if compared to the applicability of the rest of the blockchain technology, which can apply to a lot more industries. So we believe that the data structure of the verifiability and the networking approach of blockchains is extremely suitable for anywhere where data needs to be in some formal fashion, verifiable. That could be anywhere from financial assets, to property management, to government and municipal backend and data management, to health care data management and verification, to educational certificate management or any type of certificate management, to music intellectual property, patents, trade mark etc. management. Everything where data needs to be verifiable, this technology can be used and can be groundbreaking.
Our experience
We have experience in a lot of technical fields and design fields, with regards to blockchain development. We specialize in the blockchain coding and architecture designs, as well as full-stack Javascript web applications in regard to blockchain integration, including Bitcoin integration and payments, as well as a very specific UI/UX understanding of the requirements of the blockchain technology.
This design is very specific to this technology because in the vast majority of cases you'll go with private-public key setup, which is very different from a traditional password setup, so it requires a lot of design considerations that can make-or-break a product and we believe that we've got a lot of strength there too.
Also, we have some quite good patent and R&D writing experience with blockchain startups at this point.
Our technical expertise
We now have quite a lot of experience in banking, financial transactions in banking and the financial transactions industry, stock markets and other financial assets where active trading is needed in the fiduciary and broker space, in legal property contracts such as real estates space, and the music and intellectual property space, as well as the online payments and escrow space for freelancers.
---
If you believe that the product you have can be improved through the use of blockchain we can help.
Get in touch